I used to have a writing process where if something annoyed me I'd write on it quickly, and then edit out all the anger. I generally figure readers shouldn't have to deal with my anger – but it's time for some Networking.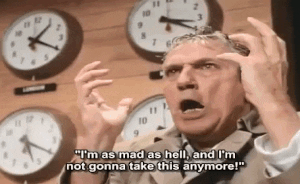 "…I'm not going to leave you alone.
I want you to get mad.
… all's I know is you've got to get mad"
You've been forewarned.
---
The need to rant really started a while ago with reading a "Message from Peter Gregg" – the big DOWG at Ontario's electricity system operator
A tournament, a tournament,
Before moving to bigger disappointments I'll start with the politicians.
Yesterday the Ontario Progressive Conservatives announced they'll cut Ontario electricity rates by 12%. I was already mad when I read that, and I think it actually nudged me a little away from anger towards resignation. Tom Adams concluded a piece on the Conservative guarantee with:
There is no reason to expect an adult electoral debate about Ontario's electricity future in 2018.
That's true, but it was true before yesterday too.
The Green Energy Act wasn't an election topic.
Adding provincial sales tax to electricity costs wasn't an election topic.
Selling off Hydro One wasn't an election topic, and,
Giving ratepayers $25 billion in the short-term to take back $40+ billion later wasn't an election topic.
While disappointed that the biggest lie may determine the election, I grudgingly admire the chutzpah in going bigger. I will note promising to revoke the Green Energy Act does address the main driver of higher costs, and I'll note removing the smart meter charge from bills is understandable, for reasons that I will later make clear.
"So they get all the generators going and they say we've got to produce 15,000," Thibeault said. "But the (actual) demand for everybody in the entire province, say they only use 14,800. So we have an extra 200 megawatts of power that we generated."

The estimates have to be generous, in part because the province has to adhere to something called Northern American Reliability Standards. Those standards are designed to help ensure a blackout similar to the one in 2003 doesn't happen again.
"And if we didn't generate it, we'd be in a precarious position because we would be losing power," Thibeault said. "We would have blackouts and brownouts.
"So what do we do with that (extra) 200? We had to produce it. Do we just let it dissipate? Do we just let it disappear? Or do we sell it to our neighbours and get something for it?
Systems require balancing generation and load.
Ontario's system operator (the IESO) is overestimating to protect Ontario's system, but all systems must balance. The neighbours aren't having blackout after blackout despite not overproducing for export to Ontario because they are more capable of matching generation and load. The reason the IESO over-estimates could be attributed to multiple things, but a need for all systems to over-generate is not one of them.
I won't blame the Minister for repeating talking point from the entity over-estimating every hour, but I will use the next figures to warn him of trusting the IESO's summary figures.
"We sell it to our neighbours and get something for it … At the end of the day last year, we actually made $236 million in savings by selling that power … In 2015, it was $238 million. In 2014, it was about $230 million."
This is very annoying. A couple of weeks ago an older friend of mine was flustered at being told how to extract annual revenues from obscure text files. So I did that and matched the numbers up to, among other things, what the IESO told the Office of the Auditor General of Ontario figures were for 2014 (figure 5): $636 million in revenues from exports and $251 million costs from imports.
So what the heck is the basis for the $230 million figure spouted by Minister Thibeault?
I'm noting 2014 because the IESO is cited as the source of data in an Auditor's report, but the figures for 2015 and 2016 are nonsensical too. I won't spend too much time offering assistance to Minister but offer this free advice: after handling data from the IESO, wash your hands.
I'll not dwell on the Minister but will note the Long-Term Energy Plan that was pending when he was appointed to the position in June 2016 was finally released on October 26, 2017. There's not much for me to comment on as it's light on data while containing the themes previewed in a speech last November. Changes to structures at the IESO are featured prominently.
On October 30th the rookie leader of the IESO, Peter Gregg, announced a premature re-organization, elevating public relations veteran Terry Young – who has been championing Premier Wynne's pet "conservation" messaging – to lead one of 3 new business units, and Leonard Kula to lead another: "Planning, Acquisitions and Operations."
Last week the Association of Power Producers of Ontario (APPrO) held a conference. The APPrO conference seems like a Consumer Electronics Show without fun products.
I wrote of an informative discussion from Len Kula in "regarding flexibility" this past August. Emissions from electricity generation in the IESO's system are spectacularly low in 2017, and I though Mr. Kula provided some insights on how that is being accomplished. As insightful Kula is as an operator, he seems utterly daft in discussing markets and planning:
…my new leadership responsibilities, and in particular this project, are really a natural fit for me. Now, I'm responsible for designing and implementing our new market, and for eventually operating it.
oohhh – I don't think an effecient market is going to emerge from that level of micromanagement.
We have to change because, as you know, the marketplace in which we are working is almost two decades old. It is not as efficient or effective as it could be for either market participants or consumers. It was implemented at a time when we had large centralized power plants – including coal powered plants – providing electricity to passive consumers.
Heads up: you have the among the lowest emissions in the world from a system that not only has large power plants, but is planned to continue to be characterized by nuclear and hydro supply. The market design isn't the way it is because of changes in the industry.
The plan for the development of a Day Ahead Market reflects the step‐by‐ step approach that we are taking.  – IESO CEO Paul Murphy, 2007
The IESO is a slow organization running what is almost certainly the worst electricity market in North America. A reason for that is operators gaming markets to fit their needs:
By unbundling the different services that we need, such as flexibility, we are introducing efficiencies but, more importantly, more competition into the market.

And we are doing that "untangling" by focusing on three work streams that we refer to as energy, capacity and operability. The goal of each of these is to send clear and transparent price signals for those different products.
If one did study markets, they'd find resistance to pricing capacity separately from energy, and if one contemplated cost effective systems they'd question if energy without capacity or operability value was worth anything at all.
Is the IESO planning a market for lightning?
… stakeholders are working with us to create a Day-Ahead Market based on a Single-Schedule System
Let's hope this second decade of planning does the trick.
I know we will be successful – that all the invested time and effort was worthwhile – because we will have a competitive marketplace that is efficient, transparent and flexible. It will be a marketplace that acquires resources cost effectively and at the right time.
I know this is delusional – that most supply will be paid for generating regardless of demand; that the Industrial Conservation Initiative requires a low IESO rate (HOEP) to subsidize large industry, and that this is a decade-and-a-half of noise from the IESO.
I know we are moving in the right direction.
I know the guy who said that was just promoted – not surprised the short-term perspective is that's the right direction.
I also know the Peter principle.
Speaking of Peter…
The President of the IESO, Peter Gregg, spoke at the start of APPrO.
The theme of this year's conference is "Future+Focus"
I don't think that means anything.
I love the old story about the opening of Walt Disney World – the one where somebody says "I wish Walt could have seen this" and somebody replies, "He did. That's why we built it" – but I think "focus" is the opposite of vision.
There's an acronym known by those told to focus by bosses, teachers and coaches – maybe it's why I so dislike the use of the term.
How do we bring focus to the future in a sector that is constantly evolving?
We don't.
As much as I don't want to linger on terminology, I won't let "evolving" go here. Evolution works through natural selection. Tough to imagine multiple generations of markets given the IESO's decade-ahead planning of a day-ahead market.
The generation and delivery of energy is no longer a one-way, top-down process. Technological advancements, climate change policies and an increasingly engaged consumer are changing the dynamics of the electricity system.
They really aren't – those are just IESO focuses. Without the program spending of the government, and its IESO, participation would be approximately nil. If this is a problem, the IESO should stop causing it.
As I look out over the next few years, it's clear that the change that this sector is undergoing will continue to accelerate…
A really good example of what this looks like is the work that is underway to open up access to de-identified smart meter data in the IESO's central repository, known as the MDM/R, to third party access. We've been receiving ideas for test cases from stakeholders who have innovative ways to use this data. It`s still early days, but I`m excited to see how this unfolds over the next year.
I promised I'd get back to smart meters. "Smart meters" have a different name since being introduced throughout Ontario. Now they're called "meters."
The Ontario PC party should kill the smart meter charge not to reduce your bill, but because it's like a pole, or wire, itemization. It's just a meter.
The MDM/R provides no monetary value to anybody. It's a toy the Ontario Energy Board should stop allowing to be funded.
To summarize: our industry is evolving fast…
To summarize, natural selection is a base mechanism through which evolution occurs.
NEXT!!