I used to have a writing process where if something annoyed me I'd write on it quickly, and then edit out all the anger. I generally figure readers shouldn't have to deal with my anger – but it's time for some Networking.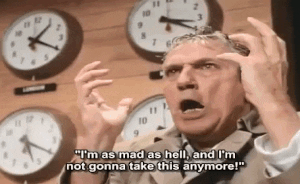 "…I'm not going to leave you alone.
I want you to get mad.
… all's I know is you've got to get mad"
You've been forewarned.
---
The need to rant really started a while ago with reading a "Message from Peter Gregg" – the big DOWG at Ontario's electricity system operator
A tournament, a tournament,
Before moving to bigger disappointments I'll start with the politicians.
Yesterday the Ontario Progressive Conservatives announced they'll cut Ontario electricity rates by 12%. I was already mad when I read that, and I think it actually nudged me a little away from anger towards resignation. Tom Adams concluded a piece on the Conservative guarantee with:
There is no reason to expect an adult electoral debate about Ontario's electricity future in 2018.
That's true, but it was true before yesterday too.Read More »